Vietnam is a unique country stretching in a smooth S-shape from north to south. The country is well known for not only its majestic natural scenery but also aged - old traditions and strong national identities. Once visiting Vietnam, travelers will be attracted by the stunning beauty of the countryside and deep-rooted cultures while properly seeing all lands of the country a haven of peace and serenity and feeling the humanity of local people here. Vietnamese people also give travellers good first impressions of their friendliness and hospitality. You can travel in Vietnam by various means such as scooters, cars, trains and boats. However, Vietnam flights are always considered as the most useful, modern and high quality ones. This means is very convenient as you can travel from North to South easily and quickly, saving both energy and time for your upcoming itinerary. Moreover, flight bookings can be made easily over the internet. You just need to sit and enjoy your lovely coffee whilst booking your tickets online, excitedly waiting for your wonderful trip to come. No need to wait in line or jostle for tickets as what you often see in train stations or garages! Vietnam has three most popular airlines including Vietnam Airlines, Vietjet Air and Jestar Pacific, providing the most convenient international and domestic flight routes.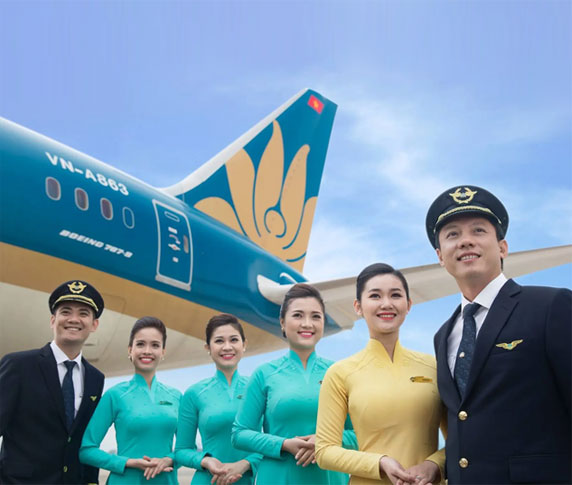 Vietnam Airlines
Vietnam Airlines is the Vietnamese national airlines established in 1956. Over the past 20 years, Vietnam Airlines has steadily grown and developped into a prestigious airline in the region, particularly Indochina countries, because of its professional crew, modern fleet, its extensive flight routes and convenient connecting flight schedules. With a constant effort, Vietnam Airlines was officially recognized as 4 Star Airline by the UK- based Skytrax airline quality rating agency.
The airline has the widest range of flight routes, from the furthest northwestern Vietnam in Dien Bien to the furthest southern one in Ca Mau or even international flights. Flying with Vietnam Airlines, passengers are able to choose their favourite flight at all travel classes like Special deals, Economy Save or Business. No matter what flight classes you choose, we believe that you will receive excellent and professional services from most caring and experienced crew in each flight. Moreover, Vietnam Airlines always try to ensure their customers' schedules on time.
Vietnam Airlines has maintained its top status of the most prestigious and popular airline because of its long haul flight routes and large fleet, occupying a large share of the national passenger market while the posibilities of delays and cancellations are much lower than those of Vietjet Air and Jetstar Pacific.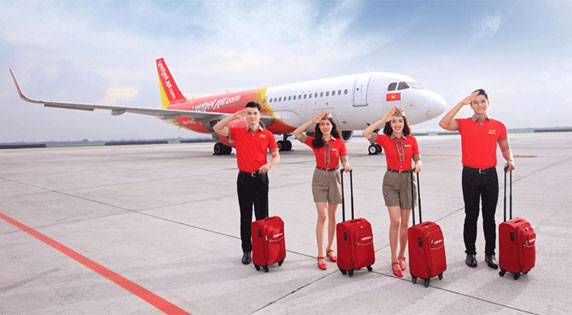 Vietjet Air
Established in 2007, Vietjet Airlines is a multinational aircraft corporation exploiting and developing a wide network of domestic and international air routes. During the past years, Vietjet Air always strives for four core values: Safety - Fun - Cheap - On Time. The airline was selected as "Asia's Best Budget Airlines 2015" by TTG Travel Awards. Similar to Vietnam Airlines, Vietjet Air also provides travellers with flights of different clases such as Special Deals, Economy Save or Busines Standard.
However, Vietjet Air does not have as many air routes as Vietnam Airlines. The main flight route of the airline is Hanoi / Hai Phong - Ho Chi Minh. The flights from Hanoi to Da Nang / Nha Trang are only operated in summer. Besides, the airline exploits some other international flights such as Vietnam - Bangkok, Vietnam - Singapore or Vietnam - Cambodia.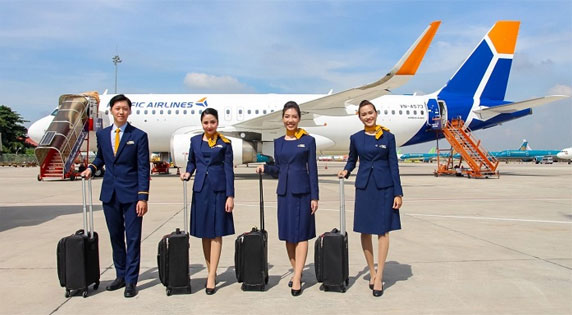 Jetstar Pacific
Jetstar Pacific is the first low cost airline in Vietnam and officially joined the global Jetstar system in May 2008. By providing flights at low costs everyday, Jetstar Pacific is making a concerted effort to give people, especially those who had no financial abilities to travel by plane, opportunities to fly frequently. Jetstar Pacific's top priority is to provide passengers with safe, inexpensive and friendly ground and air services.
Nevertheless, the flight routes of this airline are limited and usually run late or are put together. Its main flight route is Hanoi - HCMC. Recently, Jetstar airlines has new routes such as (HCMC - Nha Trang, HCMC - Hai Phong) and some other international flight routes such as Vietnam - Bangkok and Vietnam - Combodia.